That weekend, it felt as if Siem Reap all was out, celebrating HM King Norodom Sihamoni's birthday and enjoying their revamped, beautified city with no longer road construction and heavy machinery all over the place. Revelers flocked to the temples -- traffic jam at Victory Gate ! --, while downtown, on the serene river bank, the art of mixology was a hit at FCC Angkor, with the heated semi-finals of theMapping the Mekong 2022 Cocktail Competition, an initiative by Seekers Spirits of Cambodia and numerous partners.
Among the eight contestants for that session, Yan Chakriya, 26 years old yet with a significant career as bartender behind her, was trying to hide her trepidation at entering such a heated competition, with the Grand Final for the whole country to be held on May 28 at Seekers Spirit House in Phnom Penh. The warm support of her team members from Templation Angkor Resort, who waited with her among the crowd and near the open air bar, was a big relief.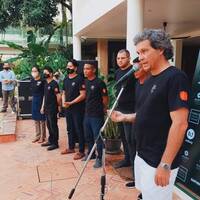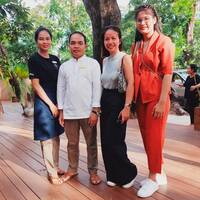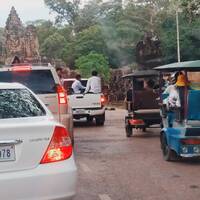 Fact is, there are only two women among the 24 semi-finalists, Chakriya and Nan Sokla from Sora Rosewood. However, all apprehension went away when she came behind the bar and started to expertly mix her new creation,Roselle Flower, for the jury. With the pond sprinkled with lotus petals nearby, this floral inspiration made a lot of sense. Roselle, a kind of hibiscus known in Khmer as ម្ជូរល្មម, mchour lmon, has been used in infusion across the Indian subcontinent and Southeast Asia. Chakriya combines the decoction with Seekers Mekong Dry Gin, and other ingredients.
Here's the recipe revealed: Ingredients • 50ml Seekers Dry Gin• 3 Roselle flowers • 20ml Lime juice• 15ml Honey Syrup • Tonic. Method: Put all ingredients into the shaker, then shake well with ice. Pour the mix and top up with tonic. Garnish : Lime slices and one flower. Serve with lemongrass stem as a straw.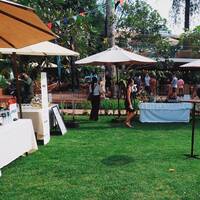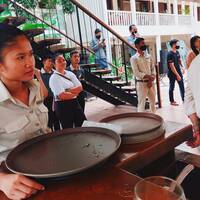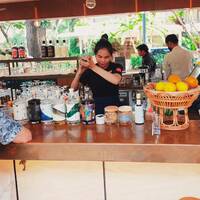 With the flowers of Hibiscus sabdariffa (roselle), Chakriya is furthering her exploration of native plants, at the core of her inspiration. The young barista has already suprised -- and delighted -- us with her Purple Paddy, a cocktail based on roasted black rice and dried pandan leaves, or her Cloudy Sky, using infused basil seeds.
The event at FCC was an opportunity for local brewers and spirit makers to showcase their products. On that hot day, the gin from Herbal Kulen, a line of medicinal beverages and spirits developed by Pari Sophary Unn near the fascinating Beng Mealea temple, was doing refreshing wonders with its herbal and spicy notes enhanced by pineapple and lime juice. "Oh, it's called Siem Reap Sling!", marveled two young ladies visiting the event and hailing from the place where was first mixed the famous...Singapore Sling.