What does it take to make a really great cocktail? In our time of over-sophistication (and some gimmicky stuff such as pyrotechnics in your glass), we tend to forget that mixing a drink can be deceptively simple and completely rewarding...if the barista is really after breaking new grounds, not just showing-off.
Meet Yan Chakriya (Siem Reap, 1996), who just won the contest Templation Angkor regularly organizes among its bartenders and staff for selecting its "Cocktail of the Month". One day, at her parents' farmhouse in the village of Phum Thnol where she lives with her eight siblings, she came up with the idea of roasting a handful of black rice, combine it with some dried pandan leaves, and sligthly infuse the mix.
"I just thought that roasted black rice tasted good," says Chakrya with her unassuming yet radiant smile, "and it could be the basis for an interesting drink". Without even opening one of the many tomes nowadays published in the field of high-brow "mixology", she started the trial-and-error process leading to the ideal balance all the motivated baristas around the world are pursuing: the quite magical combination of Acidity, Sweetness, Bitterness and Booze.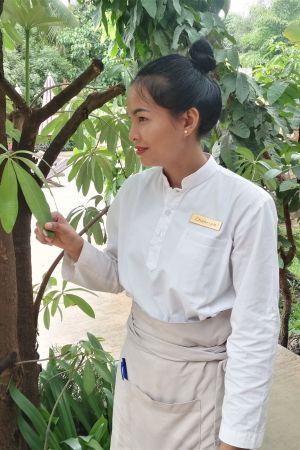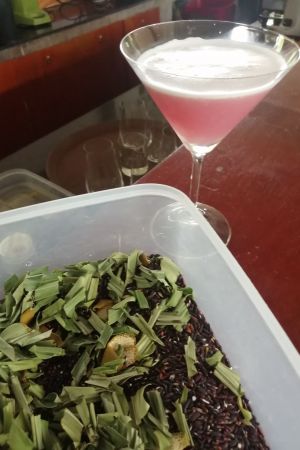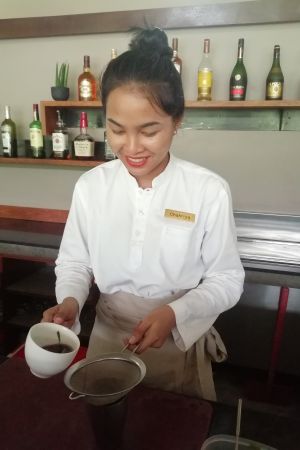 The end result is Purple Paddy, currently the star cocktail at Templation. Purple for the color, subtly muddled by the vegetal ingredients, some egg whites and the silky texture of local honey. And Paddy standing as a tribute to humble and nurturing black rice, an evocation of the rice paddies and their green-purple hues in the rainy season. Add the right amount of Seekers Mekong Dry Ginand Cointreau to bring in the spirit bite, and you are in for a stimulating, highly original but not overly "experimental" drink.
"I don't even like alcohol that much!", reckons Chakriya after shaking and pouring her decoction into a sleek cocktail glass. What matters to her is the core of the mixed drink. A few months earlier, she came up with another cocktail, Cloudy Sky, where infused basil seeds ensure a distinctive, and truly refreshing experience. For the booze part, the fact that her fiancé officiates as a bartender in downtown Siem Reap certainly helped.
It might well be that Cambodia result as quite an ideal environment for adventurous baristas: Nature is bountiful, the country's cultural openness has not been (yet?) harnessed by the constraints of "trendiness", the youngest generation is still close to agrarian realities in spite of the fast-paced urbanization. And in the word អង្ករខ្មៅ។, Angkor Kmawl (Black Rice), there's more than a trace of Angkor Wat...