HRH Princess Norodom Buppha Devi, the daughter of King-Father Norodom Sihanouk who had guided generations of dancers and given a new energy to the ancestral Royal Ballet of Cambodia, passed away on November 18, 2019. Shortly after, the Princess Buppha Devi Dance School opened in Phnom Penh, in tribute to the "First Royal Apsara" -- to quote the title of the informed biography HE Julio Jeldres devoted to her -- under HRH Prince Sisowath Tesso's direction, and with the moral support of the late Princess's daughters and sons, Prince Sisowath Veakchiravuddh, Princess Sisowath Monikossoma, Prince Sisowath Chivannariddh and Princess Chansita.
So it's been four years of teaching and learning the art of Khmer classical dance. The small and enthusiastic group who in earlier days was rehearsing in a studio lent by Aquation Office Park in Koh Pich has grown into a full-fledged school, with some 150 students during weekend training sessions at CIS Koh Pich, girls and boys, from 5 to 25 years and up.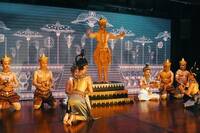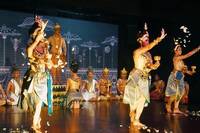 School Performances Starting November 6
សាលារបាំនរោត្តម បុប្ផាទេវីមានកិត្តិយសសូមជូនដំណឹងដល់ប្រិយមិត្តទាំងឡាយថា ចាប់ពីថ្ងៃទី០៦ ខែវិច្ឆិកា ឆ្នាំ២០២៣ នេះតទៅ សាលាយើងខ្ញុំនឹងរៀបចំការសម្តែងសិល្បៈសាធារណៈជាប្រចា
Two options:

Classical Dance Performance (from The Coronation of Jayavarman VII choreography) - 50 minutes. | Every Monday starting Nov. 6, 6 PM
Screening of "The Perfect Motion" movie, followed by a dance performance - 1h45. | Every other Tuesday starting Nov. 7. 6 PM

At Aquation Office Park - Studio B6 - Phnom Penh | Please note: only 35 seats per session.
Please note: only 35 places per performance!
Online Bookings: Classical dance | Movie/Dance
Willing to set up a private function? Contact the school.
A Glimpse on The Coronation of Jayavarman VII Performance
(video and photos above: Christophe Gargiulo/Cambodge Mag)
In the course of these four years, the school students and guest performers have graced the stage of several venues in Cambodia, from the historic Chaktomuk Theater to the French Institute. They have performed for private functions in Siem Reap, and for public shows at The Whale House, Treellion Park, Koh Pich.
And while getting ready for an European tour this winter, part of the dancers will perform this month in Beijing, and in Singapore after the screening of The Perfect Motion at the Asia-Europe Cultural Festival 2023.
Two ballet mistresses and teachers with a prestigious artistic past lead the group of young dance instructors: Neak Kru Sytha Duk and Neak Kru Savay Meas Voan (on the photo below with Prince Tesso).
Professional and amateur musicians often join in the rehearsals and teaching sessions, playing along numbers from the Khmer classical repertoire of Pleng Pin Peat ភ្លេងពិណពាទ្យខ្មែរ.