Pavilion's 54-strong team -- including its General Manager since the opening in 2006, Nassiba Alibayeva -- was up to celebration, dancing, raffle, games and more on October 3, 2023 at Aquation Restaurant, on the bank of the Four Rivers.
In its seventeen-year history, the hotel has perfected the concept of heritage, urban oasis (with its lush grounds and no less than two swimming pools, one shaded by majestic trees, the other for sun-bathing lovers), and a definite sense of Cambodian hospitality.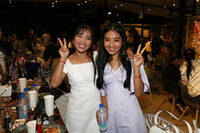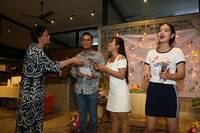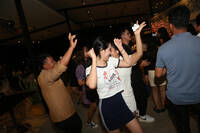 One of the first boutique hotels in Cambodia, Pavilion's adventure started in 2006, after months of careful renovation of a 1920s Khmer-French mansion erected in front of Wat Bothum Pagoda. Along Street 19 (Preah Yukhantor the Khmer name), families linked to the Royal Palace service were invited to build townhouses, and next to Pavilion building was standing the second girl's school in Cambodia's capital city, created by Princess Yukhantor Malika.
It has been said that HM Queen Kossamak, the grand-mother of nowadays sovereign of Cambodia HM King Norodom Sihamoni, enjoyed to stay in the precious mansion. Later on the renovation, two adjacent villas built in the 1950s were added to the hotel premises.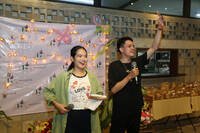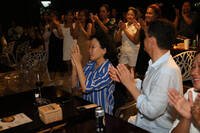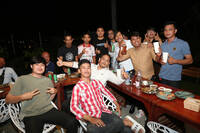 The team party, followed by a traditional Buddhist blessing of the grounds the day after, was also a testimony of resilience and positive thinking, as the hotel weathered the 2020-2022 pandemic crisis and is getting ready for the first real post-Covid high season.
90 pc of the team has joined in the post-Covid period, and took part in a new phase of renovation and improvement. At the party, the Team Awards 2023 were announced in front of a young, vibrant audience - Room Attendant Category: Ms Sam Socheat (joined 2 May 2022; Waitperson Category: Ms Lay Leakhena (joined 1 Oct 2022); Kitchen Category: Mr Kem Samath (joined 10 Jan 2022); Guard Category: Mr Prom Pharith (joined 7 Apr 2022); Maintenance Category: Mr Chin Chanthy (joined 1 Jul 2020). Front Desk Category: Ms Sen Yari (7 Nov 2022) and Mr Kouch Hanath (joined 7 Nov 2022); Spa Category: Ms Kem Dalin (joined 28 Nov 2022).
So, the love story between this history-charged spot and its keepers goes on and on, with no Seven Year Itch -- the decline of happiness in a marriage or long-term romantic relationship, popularly depicted in the 1955 movie starring Marilyn Monroe and Tom Ewell -- in sight!