The shell was here: your typical shopping mall, enclosed like a giant shoebox artificially cooled-down inside, radiating urban heat all around. But when it comes to repurpose an abandoned project, it is also time to think 'out of the box', and here is Connexion, a 45,000 sqm, six-storey building who is getting its own breath, a breath of fresh air.
No less than one-third of the gigantic volume has been assigned to natural air flow. With the River nearby, the choice made a lot of sense. And it proves that instead of multiplying heat traps in our urban environment, we can achieve buildings designed for the common good. Not stubborn boxes breathing the same recycled air: buildings helping and benefiting from the natural air circulation.
The project in May 2022 (left) and in October 2023 (right)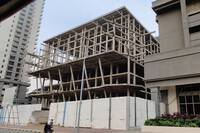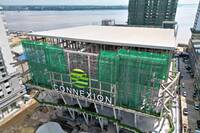 "For Cambodia, this is the first achievement in repurposing architecture applied on a modern, large-sized structure", notes MAADS' Alexis de Suremain; "with our partners and collaborators, architects, contractors, we have thought of a new way of designing office, retail, fitness spaces, kids playgrounds, food courts, meeting areas, inside and around the building. You can walk around it, meet with friends in and out of it."
The first phase of the opening, including a vast underground parking, the ground floor and two storeys, is scheduled for November 2023.
Artist's views of Connexion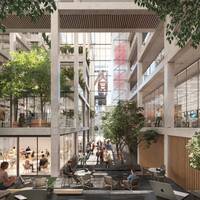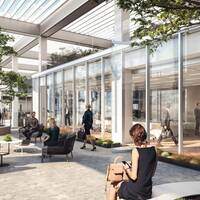 Connexion at Night, October 2023