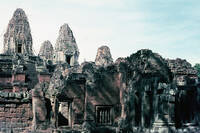 December 1968. The magic of Angkor is working full throttle on a 22-year old woman tirelessly roaming the Khmer temples with her Pentax camera. Yet she is not your average tourist or photographer: Solange Brand (1946, Paris) is just off three stunning years in China, where she candidly captured in color photographs that otherwise black-and-white moment of history, the Cultural Revolution.
After three years on "the hidden face of Earth" – China was then mostly terra incognita for Westerners --, witnessing major political and social convulsions, the young woman made a childhood dream come true: Angkor, the ancient city she had seen depicted in Spirou comic magazine, would be her first stop on her meandering journey back home. And the impression on her then was as powerful as her photographic testimony is today.
In a letter to her relatives sent on letterhead from L'Auberge des Temples, the hotel a few steps from the Angkor Wat causeway, Solange wrote: "I cannot describe such marvels, these perfect achievements in architecture, sculpture, bas-relief, these temples, some of which hugged by lianas, caught under tree roots, this jungle vibrant with bird calls, an astounding smell rising from it, these coconut and banana trees, these monks, these women in sarongs, naked children, buffaloes, fishermen, floating villages, this life in a pure state, untouched by progress, verdant, true…This country radiates a smiling calmness, an extraordinary atmosphere, and always these temples in ruins, these powerful stones, vestiges of an admirable past. I'm taking lots of photos of course, but I wonder if they will really convey what I feel, what I see."
Below: a letter from Angkor, and Solange's diary.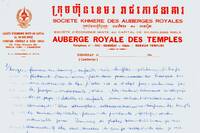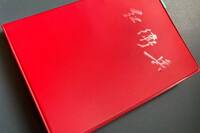 The pictures do convey this youthful wonderment, yet also a sense of frailty, of a harmony that can be too easily undone. Travel back to the time frame of these photographs: the Vietnam War is raging; King Sihanouk, worried by the turmoil in China, has re-established diplomatic relations with the USA a few months earlier but, in spite of Jackie Kennedy's November 1967 visit to Angkor, distrusts the American administration; and on 18 March 1969, a few weeks after Solange has left Cambodia heading to India, US B-52 bombers start stealthily pounding 'targets' within the country that looked like a 'paradise on earth'; L'Auberge des Temples will close in 1971, one more casualty in a civil war that will lead to horror.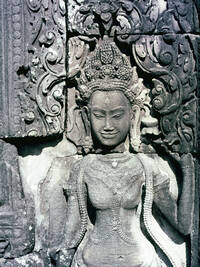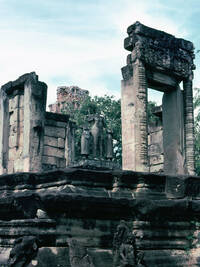 Out of some 100 digitized slides (Agfacolor), we have selected and printed 16 photographs reflecting Solange's vision of Cambodia, its temples and its people. Temples shown are Angkor Wat, Bayon, Bakong, Phnom Bakheng, Banteay Kdei, Banteay Srei, Pre Rup, Roluos Group, Neak Poan, Ta Prohm, Preah Khan, with floating villages south of Siem Reap. In addition to their artistic value, they bring important documentation to researchers willing to get a clearer picture of Angkor site just before the civil war.
The complete series can be viewed on Angkor Database platform.
Below: At the Great China Wall in 1965, and visiting Angkor with a friend in 1968.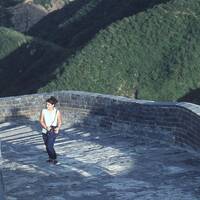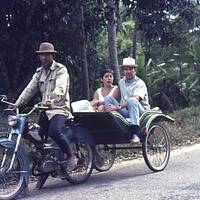 Back from China and Angkor to Europe: an itinerary through the World as it was then
Leaves Beijing 10 Dec. 1968 – Canton (now Guangzhou) – Hong Kong – Siem Reap Angkor – Phnom Penh – Bangkok – Singapore – New Caledonia (3-week island tour) – Calcutta (now Kolkata) – Bhubaneswar – Konark Sun Temple – Calcutta – Kathmandu – Patna – Benares (now Varanasi) -- New Delhi – Agra -- Fathepur Sikri – Jaipur – Amber – New Delhi – Kabul -- Tehran – Shiraz – Persepolis – Ispahan – Tehran – Paris (arrives 20 Feb. 1969)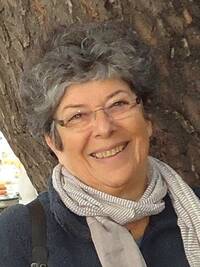 More About the Photographer
In June 1965, Solange was completing her studies in a secretary school when a position at the newly-opened French Embassy in Peking (Beijing) was offered to her. "I felt free, perhaps thanks to my roots, a daughter of immigrants who wanted to see the world", she recalls, "my eldest brother had to help me convince my parents to let me go to China, since I was not over the legal age of majority then. I had never taken photos before, but I bought a Pentax camera in Hong Kong with my first savings. The color films also came from Hong Kong as it was not possible to find them in China."

Feeling empathy with the young crowds drawn to Beijing by the Cultural Revolution, she started snapping photos away, traveling to Chinese provinces when authorities allowed it, and when her photos -- that she had filed away during decades when she was Art Director with Le Monde Diplomatique -- were shown in China in 2002, they had a huge impact, as this painful moment of Chinese history had been wrapped in silence.
Her book Pékin 1966, petites histoires de la révolution culturelle (Paris, 2005) has been edited in Japan (Pékin 1966, with additionnal text by Kazuyoshi Shimozawa and Masaaki Tsuchiya, Benseï Publishing, Tokyo, 2012 (bensey.co.jp)) and China (中国记忆,1966:一位法国摄影师镜头下的彩色中国, China Memory 1966, Shanxi People's Publishing House, Beijing, 2015). The publication is reviewed on Baidu Online Encyclopedia (in Chinese).
This will be also the first time Solange visit Cambodia since she was invited to join Angkor Photo Festival in 2011 and 2012.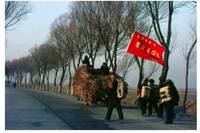 Opening at Templation Angkor Resort 20 Nov. 2023, from 5:30 pm. Opening at Penh House 30 Nov. 2023, from 5:30 pm. Siem Reap: 20-29 Nov. Phnom Penh: 30 Nov- 30 Dec.
The Phnom Penh exhibition is associated to Phnom Penh Photo Festival 2023.
Prints will be available for purchase at both exhibitions.
During the artshows, several prints of Solange Brand's photos from China will be displayed.