Confined to his cramped room for 42 days after illegaly participating in a duel, Xavier de Maistre wrote in 1794 A Journey Around My Room, an imaginative travelogue designed to fight boredom. There is nothing confined, boring or cramped in the spacious and airy Aquation Restaurant, and yet Chef Alex, Maads executive chef, listened to frequent guests who, even if they loved every one and each of the Khmer dishes there, suggested a more global culinary experience, with specials from all around the world.
Born and raised in Malaysia, where Chinese, Malay, Indian, Bangladeshi, and even Portuguese influences are easily traceable in the local pots and plates, Alex -- who also worked the kitchens of a famous Phnom Penh Brazilian restaurant in the past -- immediately embraced the idea of a worldwide voyage around a restaurant table.

Lunch Around The World Quizz
Monday: 한식 먹자 | Tuesday: Jom makan makanan Malaysia | Wednesday: 一起来吃中国菜吧 | Thursday: 一让我们吃日本料理 | Friday: Vamos A Comer Comida Mexicana!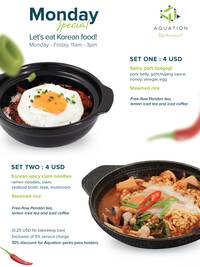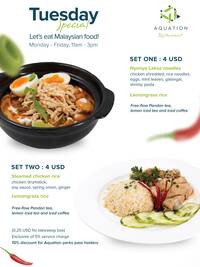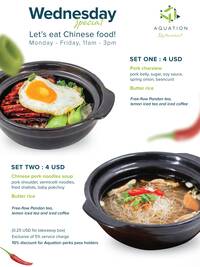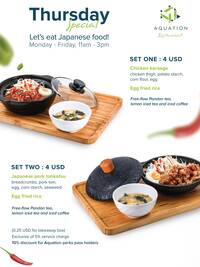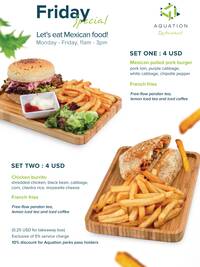 "We begun with Japan, Korea, Malaysia, Mexico, China food, always under the motto "hi," recalls the young chef; "our team did not feel immediately comfortable with cooking Thai or Vietnamese dishes, as they have to learn more about techniques. With Karl [Aquation General Manager], we certainly have also considered Italy or Spain, but at 4 US dollars per set including sets, we need to keep a tight budget, and imported ingredients can be really pricey." Good news, however: you can now find in Cambodia a decent olive oil -- that essential staple of Mediterranean cuisine -- from Malaysia, much more affordable that the Italian, Spanish or Tunisian ones...
The Lunch Around The World special at Aquation Restaurant was launched just as Cambodia made a big leap forward onto the global scene by hosting the 32d edition of the SEA Games. Not only the spectacular opening ceremony and the dedication of thousands of volunteers have been praised worldwide, but courageous female runner Bou Samnang "won the hearts around the world" and became a "global inspiration":