Every early morning since 2018, in-the-know Phnom-Penhers would converge to an unassuming store on a quiet street behind Wat Phnom, silently praying that Gomez's daily batch of bounties (croissants and assorted viennoiseries, crispiest baguettes or heavenly ciabattas) had not yet sold out. With her disarming smile, the young Cambodian attendant behind the rudimentary counter would often inform the patrons it was over for the day.
Voted the best croissant and baguette maker in Phnom Penh for several years in a row, Hideaki Horigome aka Gomez is not your typical stellar baker. He doesn't really care about hype packaging or fancy boutiques. As unpredictable and moody as a true poet of the dough, he is just quietly pursuing his quest for perfection.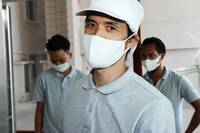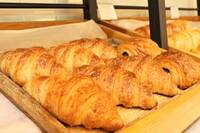 Born in Saitama, once a farming area that has been engulfed into Tokyo's spreading suburbs, Hideaki chose to work for five years in one of Japan's capital city bakeries before he moved to Cambodia with his father, a civil officer posted to the Kingdom of Wonder. The passion for French fine foods runs high in his native country – if you never watched Juzo Itami's cult movie Tampopo (1985), which Hideaki somehow affectionately calls an 'old movie', it is time to do it! --, but with his own talent the baguette reaches another level: it becomes part of the world cultural heritage.
Lanky and hyper focused, Hideaki-Gomez is, quite predictably, a basketball buff. He's partial to fine wines and outings with friends whenever a pandemic is not forcing all of us into confinement. When it comes to his passion for bakery, though, one shouldn't expect lengthy explanations or shared secrets. But once again, which poet could explain and compart his or her ability at conjuring the magical with his or her craft?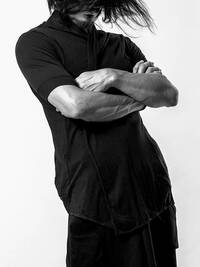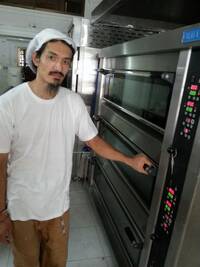 Volumes have been written about what makes the 'perfect' croissant or baguette. The right crispiness and flakiness, do they come from the tricks of the trade? Should the dough be prepared one day in advance, so it maturates overnight in the fridge to arise all the yeast flavors? Which flour works best, when you remember that Parisian most noted bakers refer to some 40 different kinds? Was the croissant even a French invention, since some historians trace its origin to a baker from Vienna, August Zand, who in the early 1800s came up with the idea of making the traditional Austrian pastry kipferl flakier than usual? What is the right oven temperature for it, 180 Celsius, higher, lower?
Buttery, but not too buttery. Flaky, but not too flaky...Just bite into one Hideaki's croissant and the whole abscond mystery vanishes. It is there. Perfection. And when you hear that the artist-baker just got the right bread oven he was looking for, and that baguette is actually his forte, you just get even hungrier. After all, bread in Khmer is នំបុ័ង, the cake-pain, from the French word for bread. Thanks to Hideaki and his new brand Khlion, you can have your cake-bread and eat it too.
The Khlion Shop in Koh Pich is ready to open in Koh Pich whenever the situation allows it. Le Café at White Mansion is also carrying Khlion pastries and breads. And deliveries are serviced by Nham 24, FoodPanda or Khlion dedicated delivery service. Call 089 372 700 or DM us.