For 15 years now, MAADS team has been developing floating hospitality and leisure structures as a way to reconnect Phnom Penhers with the emblematic rivers. It started with Mekong Bungalows, a hotel suite and bar-restaurant off the banks of Areksat. The floating Jungloo, a comfortable tented bungalow on a platform, followed. And today, Floatation Lounge on the shore of Koh Pich attracts many denizens in search of fresh river breeze and cool mocktails enjoyed while gently rocking on the water.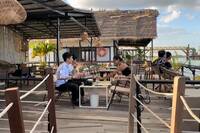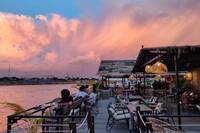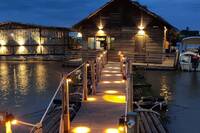 Two novel, resolutely green techniques, have been developed by Alexis de Suremain, MAADS founder. The first one, in collaboration with Sam Sokvyrak, was to fill two decommissioned containers with polystyrene coming from thousands of discarded styrofoam boxes, compacted in large blocks giving buoyancy to the metal hulls.
While the container iron walls are already treated to resist water corrosion, they will be launched onto the water on the side, with this unusual ballast made of boxes that were used to ship seafood and would have added to the already gigantic waste landfills. Side by side, the containers form a large pontoon of 12 x 6 meters, which will add one more floating structure to Floatation lounge, restaurant and accommodation areas on the Bassac River.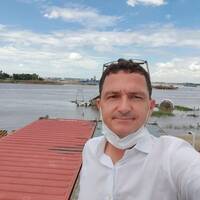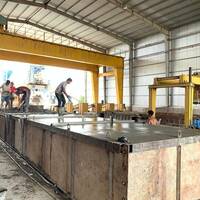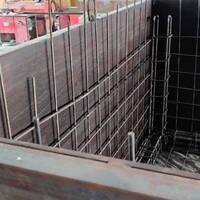 The second technique, still in its experimental phase with a first prototype to be launched soon, was developed in collaboration with Prum Darun. A mix of concrete and polystyrene is poured in a mold lined with rebars, having the standard size of a half-container, which will allow for easy transportation on container trucks.
The platform can be used as a removable base for light structures, temporary or permanent camping spots, building work sites...No need of foundations, no lasting impact on the environment. And a practical, easy way to reconnect with the aquatic world, so important in the Cambodian landscape.