At the gates of the timeless Khmer temples, Templation Angkor Resort full team is multi-tasking to keep improving an hotel already praised for its vast landscaped grounds, the privacy of its villas with pools, and its eco-friendly committment with its solar-powered grid, its green roofs and organic vegetable garden.
During these difficult times, staff members are getting involved in maintenance of the grounds, enhanced cleaning procedures and the development of seven 3-bedroom villas, a new accommodation category that will allow comfortable family stays in complete privacy.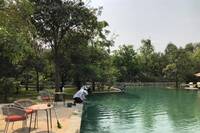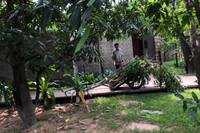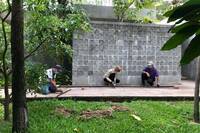 "Like the whole country, we're going through dire straits but we keep us busy and united", notes with a brave smile Somonea Cheng, the General Manager; "the men in the staff have joined maintenance and construction shifts, the women keep improving cleaning procedures and tend the resort's vegetable and herbs garden. We all join in our ongoing training programs, all that respecting the health safety measures needed at this point."
Khmer New Year has been a subdued celebration, without the usual festive gatherings at this time of the year. The temples remain closed to visitors. But life goes on, with the increased awareness that we have to live closer to Earth. A lesson in quiet resilience in the face of adversity.