Templation Angkor Resort and Angkor Database augmented republication of Her Royal Highness Samdech Kanitha Norodom Rasmi Sobbhana's book, with all proceeds going to the Sobbhana Foundation for Women and to the Reaksmy Sophon Pagoda, is triggering great interest from younger generations and the general public (see reviews and distribution points here).
In the wake of the book release, a reader from North America who was involved in humanitarian and educational work in Cambida, Dr. Paul L. Baker, was kind enough to send us rare photographs from the 1960s where Samdech Kanitha can be seen. In the one above, the Princess is holding a version of The Culinary Art of Cambodia/ Le guide culinaire cambodgien, the issue printed to raise funds for the Cambodian Red Cross
These photos were part of the personal archive of the late Ms. Anna Price, who was actively involved in the Ladies Club created by Samdech Kanitha to involve spouses of international diplomats based in Phnom Penh in cultural and educational activities. Ms. Price, who was the wife of Darrell Price ( a public officer of the USIS (United States Information Center) in Phnom Penh from 1959 to 1962), assisted the Princess in the preparation of the English version issued in 1960.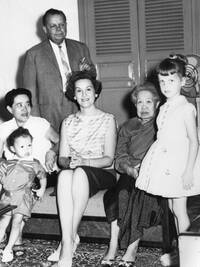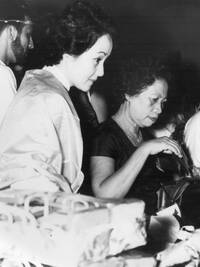 Other photos, taken between 1959 and 1962 (afterwards, the Prices went to work and live in Bangkok, Thailand), show Princess Rasmi Sobbhana (aunt of H.M. the late King Norodom Sihanouk, great-aunt of the H.M. King Sihamoni, sovereign of Cambodia) amongst members of the Cambodian Royal family:
the King Father (សម្តេចឪ, 1922-2012) himself
H.M. Queen Mother Kossamak (ព្រះមហាក្សត្រិយានី ស៊ីសុវត្ថិមុនីវង្ស កុសុមៈនារីរ័ត្នសេរីវឌ្ឍនា, 1904-1975)
H.H. Princess NorodomKet Kanya Mom, aunt of the King Father and His Majesty's "culinary mentor" along with Princess Rasmi Sobbhana
Princess Norodom Ping Peang Yukanthor (1894-1966) and her elder sister Princess Norodom Pengpas Yukanthor (1892-1969), daughters of H.R.H. Prince Norodom Arun Yukanthor
H.R.H. Princess Sisowath Pongsanmony (1929-1974), King Monivong's daughter, then spouse of H.M. Norodom Sihanouk.
H.R.H. Samdech Norodom Soriya Roeungsy, King Sihanouk's and Princess Pongsanmony's daughter, victim of the Khmer Rouge regime like four of her siblings and half-siblings
H.R.H. Samdech Krom Preah Sisowath Monireth (1904-1975), Queen Kossamak's brother and former Prime Minister of Cambodia
H.R.H Samdech Sisowath Chivan Monireak (1936-2016), who had graduated from the Academy of the Cambodian Royal Air Force in 1956.
(1) Note about first photo in this entry: Thanks to HH Prince Norindeth Vidhivong (Norodom Norinvidhivong, or just "Vidhi", as he prefers to be addressed to), we've been able to identify the persons sitting with the Prices: right, HRH Samdech Sisowath Pindara, daughter of HM King Sisowath and half-sister of HM King Monivong, in her residence north of the Royal Palace, the beautiful mansion that is now the historic building part of the Phnom Penh Hyatt Hotel; left, HRH Princess Norodom Sathareth, daughter of the latter and HRH Prince Norodom Suthivong, who disappeared during the Khmer Rouge era, aunt of the young boy seated on her lap, Norindeth Vidhivong, around one-year old at that time, son of HRH Prince Norodom Norindeth, then Cambodian envoy to UNESCO in Paris.