"2020 had been a difficult year for everyone, and as the turn-of-the-year was getting closer I thought more and more about turning that page by doing something useful, meaningful", remembers Chy Nikko, a 15-year old student at Northbridge and a cross-country runner.
The idea came up when meeting by chance the singer Oun Batham, known as Sai (1)...in a running shoe store: "Sai was about to start his first 'Run With Sai for Solidarity' event in Siem Reap, and I was looking for new shoes for my next cross-country meet. The idea came to me to modestly contribute my way".
And that is how, with close friend Dalen Lim and other school mates Nikko was prompt to rally to the cause with her bighearted energy, the youngster has run 100 km in 4 days (January 4-7, 2021) and raised so far 13,000 $ on behalf of The Rabbit School, a NGO educational institution caring for autistic and intellectually-challenged children.
(1) Sai has been recently nominated to the Smart Good Citizen Award, part of Smart Axiata's Rise Together campaign, see here.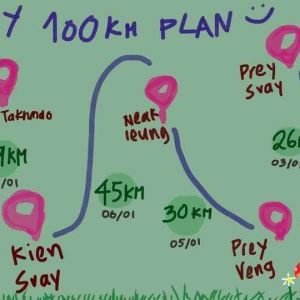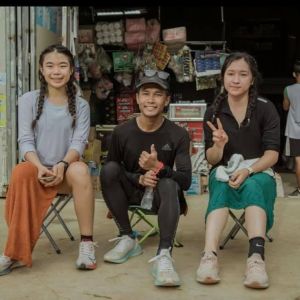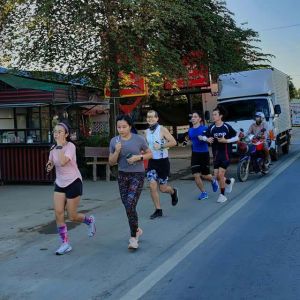 "After following Sai's solidarity journey on social media for a few weeks, I got really super inspired!", recalls Nikko; "With the help of my dad -- Chy Sila, the Editor-in-Chief of Sabay News --, we contacted him to join with my initiative for autism awareness, and at the end we did most of the run together. For my last stretch, we joined him on the run from Kien Svay to Takhmao." In effect, Sai was running towards Phnom Penh from the south, expecting to reach the capital city on Jan. 10.
While the impact of a celebrity like Sai was to be expected -- the singer recently raised around 400,000 $ for Angkor Children's Hospital, with a fundraising dinner at Templation Angkor Resort among related initiatives ---, Nikko and Dalen's run, and its recognition, set a wonderful example for Cambodia's youth.
Wide-eyed (and with some sore muscles after such an intense run), Nikko remarks: "I would never have thought the response be so great, so it's super crazy cool! I'm really glad to be able to make an impact. It malkes this 100km run so, so rewarding!"
And to stay on that note, watch Nikko, who is also a music lover, in a rendition of...Feelin' Good:
How it started: Dec 31 Resolution!