An accomplished chef skilled in Western and Japanese dishes, PHAI Sophalla (1982, Prasat Bakong, Siem Reap) remains anchored to the culinary traditions and the vibrations of her native land.
"As a kid, I used to play with my friends at the Bakong Temple", Phalla recalls today near the busy kitchen of Templation, the resort at the gates of Angkor; "I loved to climb to the top tower of the prasat (temple) and to look down into the well we call Andong Preng. Our elders said that when you pray into the well, your wishes will come true."

If Phalla wished a successful career, this was certainly granted to her: after working as a prep cook in a local restaurant when she turned 16, she joined the kitchen at the Amansara Hotel in 2002, first as a help and ascending to the position of chef-de-partie.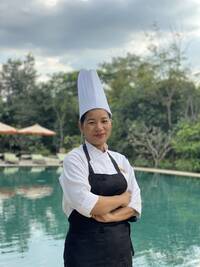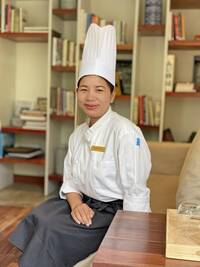 In 2018, she moved to Phnom Penh for two years. However, Siem Reap stayed in her mind and heart, and she joined the Templation team in October 2020.
A mother of four, Phalla still finds time to constantly perfect her art, doing research for new dishes and reading, mostly books about management. And while she confesses her particular fondness for two Khmer cuisine staples (Saraman Cari -- which reminds the Malaysian Beef Rendang -- and Num Banh Chok -- rice noodles with green curry --), Phalla prepares with the same passion for details all the dishes of traditional Cambodian cuisine.