And the rain stopped, and a radiant full moon shined over Templation Angkor Resort, where guests were invited to join in the enchanting ritual of floating the kantong (កន្ទោង), these fragile shells made of banana leaves that carry away on the water candles, flowers and small offerings to Preah Mae Kongkea, the guardian female deity of the water.
With the pandemic restrictions recently eased but necessary caution still in force, the 19 and 20 November events were limited to Templation guests, who at some point were joined by the resort's team to float the Festival lights over the majestic swimming pool, designed as a natural pond spreading its shiny waters beneath majestic trees, a few minutes from Angkor Wat.
Food and drinks were enjoyed under a starry sky, in the balmy night air, live music graced the family-like gathering.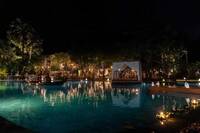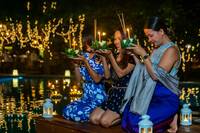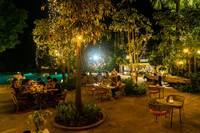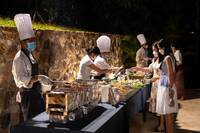 So close to the Khmer temples, it naturally came to mind that Bon Om Touk, the Cambodian Water Festival, originated during the time of Jayavarman VII for the racing boat tradition, and much earlier, in the 8th century, as a tribute to Goddess Ganga, the deity of water, source of life, for the Bratib (ប្រទីប, illuminated boats) one.
This period of the year, the end of the rainy season and the time when the Tonle Sap reverses its course, sending back water to the Great Lake, is in fact the occasion to several celebrations. The official name of the Festival, ព្រះរាជពិធីបុណ្យអុំទូក បណ្ដែតប្រទីប អកអំបុក និងសំពះព្រះខែ, illustrates the multi-faceted three-day festivities, as it means The Festival of Royal Boat Racing, Lanterns Floating, Taste the Ambok and Worship the Moon.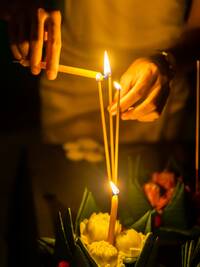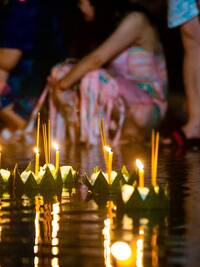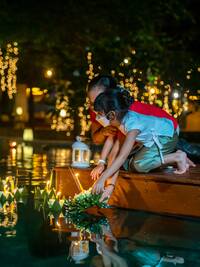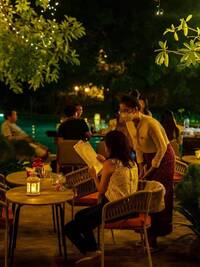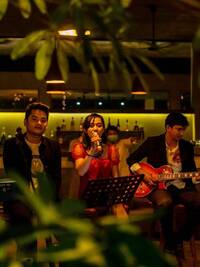 Many colorful legends and Buddhist tales surround the Cambodian celebration of the mid-autumn full moon, among them the famous Sovanassam Cheadok (ជាតក), the "Rabbit in the moon".
A great moment to rejoice and be thankful for Nature's gifts, with the hope that next year will bring back to us celebrations that had been cancelled due to the pandemic, especially the boat races.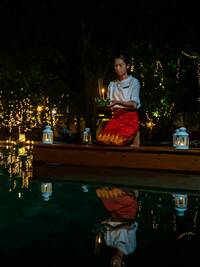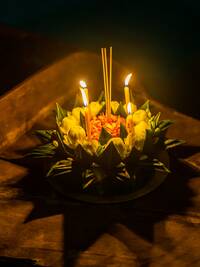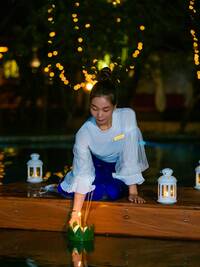 Photos by នរា_Norea-Media