Opening March 7, 2019, from 5:30 pm at Angkor Children Hospital Visitor Center. Until April 8, 2019. All proceeds will go to the hospital.
"Blessing" is a collection of boldly colored paintings by child prodigy Jiaxin "Johnny" Zhao, born in Singapore in 2007. At the tender age of seven only, Johnny, currently a primary school student, held his first charity solo exhibition, "Future Memories 1". His work has been exhibited in Singapore, Thailand and now for the first time in Cambodia.
Templation Angkor and Siem Reap BrewPub are supporting this marvelous display of art and caring hosted by and in favor of Angkor Children Hospital.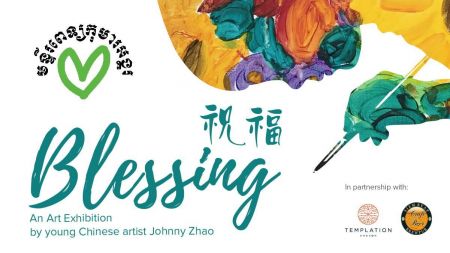 Angkor Hospital for Children (AHC) is a non-profit paediatric healthcare organisation with a mission of improving healthcare for all Cambodian children. AHC has delivered compassionate, holistic care to children from across the country for 20 years now.
AHC has established itself as a centre of excellence through provision of high-quality, specialist services not found elsewhere in Cambodia. Through data, research, and policy-setting, AHC is making a wider impact by strengthening healthcare systems and influencing child health locally, regionally and internationally.

Learn more about Johnny Zhao in his profile by Singapore Straits Times here.
Inquiries here.