When the Royal House of Cambodia announced on social media networks that Princess Norodom Buppha Devi had been hospitalized for a serious illness, and asked people for their prayers and thoughts, the emotion was palpable. A heartfelt, widespread emotion among all demographics, all generations. At Phnom Penh National Museum, dancers from the Royal Ballet and the University of Fine Arts, dressed all in white, performed the Buongsuong cereremony on behalf of Her Royal Highness Princess Norodom Buppha Devi Tepura, daughter of late King Sihanouk and Art Director of Cambodia Royal Ballet.

On November 18, around noon, the Princess left this world. Nevertheless, the impact of her creative work, will certainly last for decades and centuries. Recalling the Paris performance of a still recovering ballet led by Buppha Devi in 1991, after years of civil war and turmoil, Suppya Helene Nut, a leading scholar in Khmer classical dance, stills feels the intense exaltation of the moment, "the joy of seeing we as a people did still exist, since our art and culture were so marvelously alive."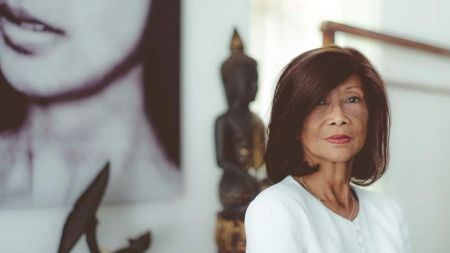 1991, the year of the Paris Peace Agreement ending two bloody decades of unrest initially triggered by the relentless US carpet bombing of Cambodia, until then an island of peace and neutrality in a troubled South-East Asia, was a turning point for the Princess. It is when she came back to Cambodia with his father after living in exile in China, Korea, and France, and after she spent almost a decade with the Cambodian refugees in camps set up on Thailand territory, helping youngsters to find hope again with...the art of Khmer classical dance.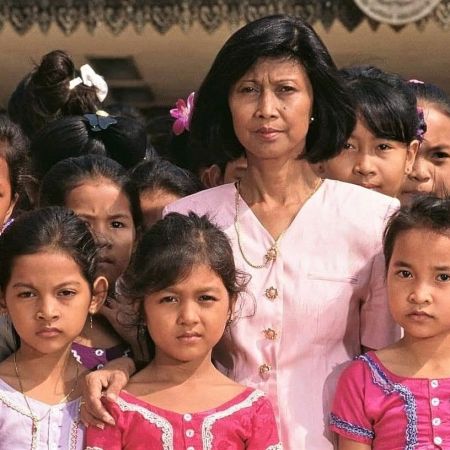 At Site B Refugee Camp near Surin, mid-1980s...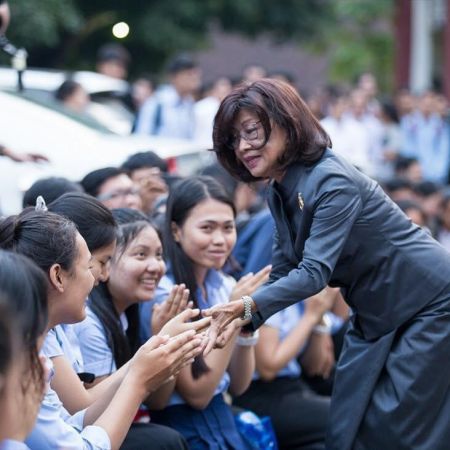 ...and with school children in Cambodia, 2016
1991 was also the last time Princess Buppha Devi performed as a dancer at the Royal Palace or anywhere else, with a Tep Monorom dance for her father King Sihanouk and a few guests of honor. From then on, the immensily gifted prima ballerina, who from the age of 16 had been chosen by her grand-mother Queen Kossamak to give life to the new "Apsara" dance style, who had starred in French movie director Marcel Camus' Oiseau de Paradis (1962) and in her father's movie Apsara (1966), devoted all her energy to teaching, restructuring the Royal Ballet and making Khmer classical dance a living, ever-evolving art form again.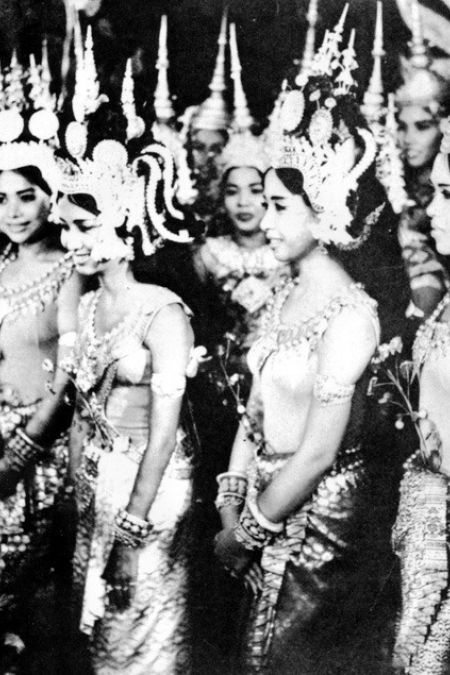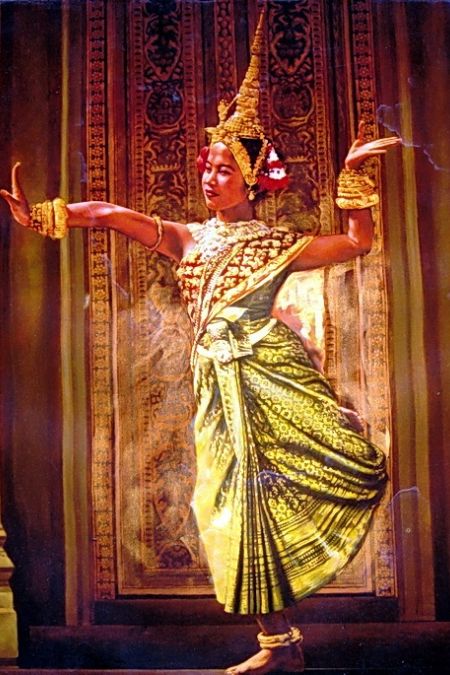 ...and oil painting, 1960s (Devata.org Collection)
The last three decades of the Princess' life are definitely marked by this committment to share the art and knowledge with younger generations, and to push back the apparent limitations of an ancestral art form that in fact has always been evolving, tuned to inventiveness and the sense of a "fleeting world".
In 2013, for instance, Princess Buppha Devi stunned and ravished specialists as well as mere spectators with herLegend of Apsara Mera, a ground-breaking choreography in which each dancer had two different roles to play in the drama. Among many innovations, she opted for "staging" the devotional ceremony that precedes Khmer courts dances, the Pithi Sampeah Kru, paying homage to the spirits and teachers of the Dance, previously celebrated behind the curtains (read more about that new approach to Khmer classical dance here.)
Video Tribute by Kalyan Tevi Sisowath, daughter of Buppha Devi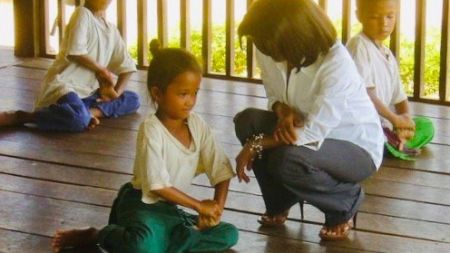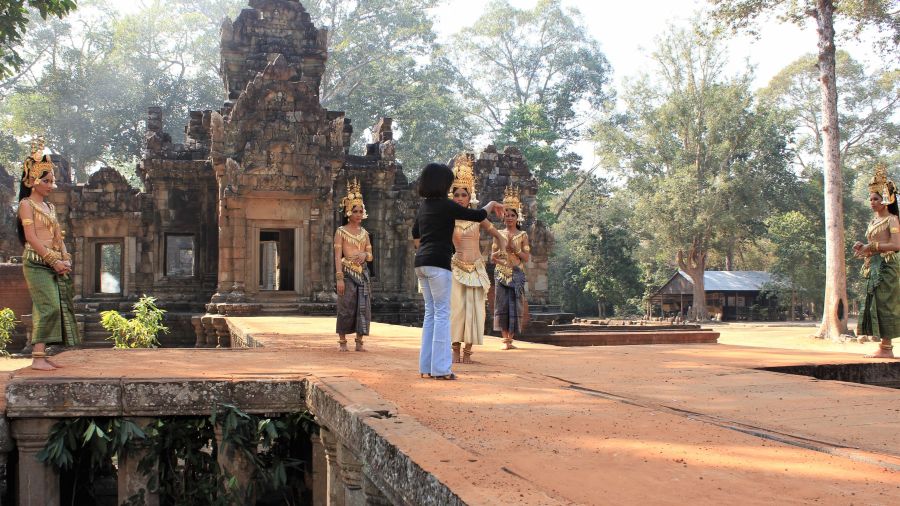 Here at Angkor Wat in 2011, for the shooting of the "Apsara" series, Princess Buppha Devi instructs several dancers during rehearsal (Photo Men Bunlo, courtesy of Royal Ballet of Cambodia)
More recently with Metamorphosis, a deep yet sometimes playful reflection on Khmer court dance from the time of the Royal Ballet's visit to France in 1906 -- which made such an impact on Auguste Rodin -- till the new additions brought in by her grandmother, Princess Buppha Devi deftly demonstrated the endless possibilities sprouting from an ancestral art form.
And at some point in The Perfect Motion, a filmic homage to the Cambodian Royal Ballet by movie director Xavier de Lauzanne (to be released next year), the 75-year old Princess stretches out on the floor with astonishing suppleness near her two rehearsing dancers, and explains with two subtly different gestures of the arms and the head: "Look, that's fainting (duolsanlob, in Khmer), and this is...dying (slap)." Then, dancers and teacher collect themselves, and softly laugh together: it's a tiny nuance, perhaps not as irrevocable as it is supposed to be.
Sacred Dancers of Angkor In Memory of the Princess-Choreographer
H.R.H. Buppha Devi's inspiration reaches way beyond royal palaces and international festivals. She gave her support to the Dance Conservatory in Banteay Srei (Sacred Dancers of Angkor), where village girls and boys can reach the highest mastery of Khmer classical dance.