Whether you want to improve your dancing skills, meet new people or simply feel like trying something new, there are plenty of opportunities for you to try out social dancing in Phnom Penh.
Social dancing is one of the most genuine ways to meet locals and expats when traveling or living in Phnom Penh. And it's not Soleak - Miss ASEAN Cambodia 2014 - who will say the contrary. The fashion model is a big fan of social dancing: "I started learning salsa two years ago with a friend, I discovered bachata which is my favorite dance style, and since then I never stopped practicing my steps", she says.

Events usually take place in venues that are out of the usual tourist tracks and filled with a fun and friendly atmosphere. No need to be an experienced dancer nor to come with a partner to attend as most events follow a class for beginners, and dancers usually change partner for each number.
Feeling like warm Latin vibes? Head to Duplex, a well-established Belgian tavern on Street 278 on a Wednesday night. From 9 pm the dance floor fills up with all the salsa and bachata lovers of the Penh for a night of dancing. It's also worth coming just to enjoy the show! If it's your first time dancing salsa or if you are already experienced but wish to learn new moves, make sure to come a little earlier: there are two salsa lessons - 7-8 pm for intermediate and 8-9 pm for beginners at Club Love, the bar just above Duplex. For bachata lessons, come at 7 pm on Thursday. And follow the page Salsa/Bachata Phnom Penh to stay up to date with the upcoming Saturday Latin parties, featuring DJs and live music.
If you're more into a little vintage, the famous artistic space and bar Cloud (Street 9) is home to the fresh yet growing swing dancing community of Phnom Penh. Classes for beginners and intermediate level dancers take place every other week on either Tuesday or Thursday and cover a variety of dances including lindy hop, charleston and balboa. Free social dancing on the greatest vintage playlists in town starts right after the class. The group also regularly participates in international swing dance events in the region. Check on Phnom Penh Swing Dance andSwing Penhpages to stay up to date.
Tango lovers are not left behind -- with three classes and one social dancing event a week, there are plenty of opportunities for tango dancers to practice or learn new moves! Classes take place in various locations including Duplex and Tango Loft Cambodia on Street 310. For social dancing, head to Duplex between 7 and 8 pm every Saturday. The Tango Cambodia community is often welcoming international tango teachers and special workshops are regularly organized. The Tango Cambodia pagewill keep you posted.

So wait no more, grab your dancing shoes and we look forward to seeing you on the dance floor! -- Marion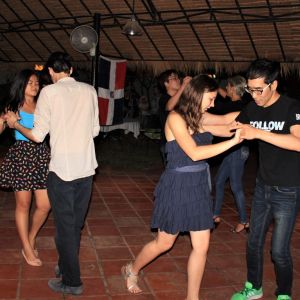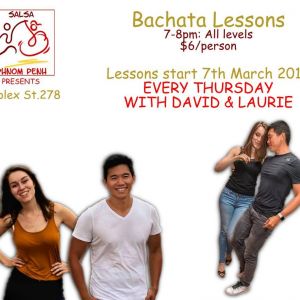 All photos: Salsa/Bachata Phnom Penh