Afternoon brainstorming session in MAADS Interior Design Team office. Around the three young women sitting in front of computers or pinning on the walls sketches for new lighting and furniture options, the working space looks like a craft store exploded -- samples of fabric, brushed metal, leather and rope lay among rulers and Pantone swatches.
The three, Lucille Giralté, 34, Tep Srey Net, 24, and Sok Ren Polinich, 23, laugh easily and talk about chocolate often, but their recently completed project, the highly original décor for Penh House Hotel near Phnom Penh Royal Palace, shows some impressive amount of work and creativity.
Recalling the almost two years of intense planning and designing to achieve "the feel of the place" – an oasis-like haven in the middle of the historic district, with patterns and details conveying a sense of peaceful respite for modern nomads --, Lucille reckons it was "a big challenge", adding between laughs: "and frankly, we are proud of what we have achieved."
The trio starts by developing and drawing their ideas, sourcing materials and seeking out local suppliers and builders. "We are a team within a much larger team", they insist, describing the constant coordination with the brand managers and, in the case of Penh House, the architects from Asma, the landscape designer and the contractors in order toharmonize colors, textures, shapes, atmospheres.
"When you want to use mostly local materials, to work closely with local artisans, it may be way more challenging than simply ordering in bulk from established international providers", notes Lucille, "but also more rewarding". For instance, just for the cushions at Penh House, they needed to source more than 1,000 meter of high-quality fabric by browsing through various market stores: "You have to go back many times, stay on the outlook for this specific material, because local vendors usually don't stock big amounts".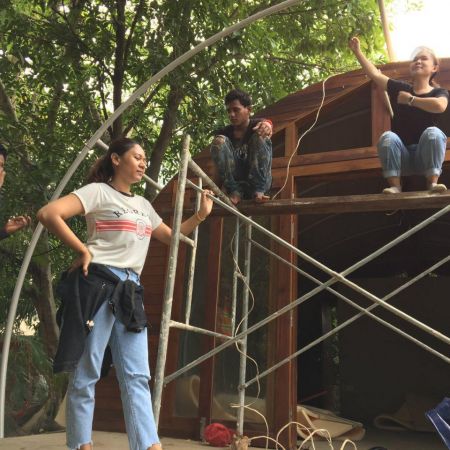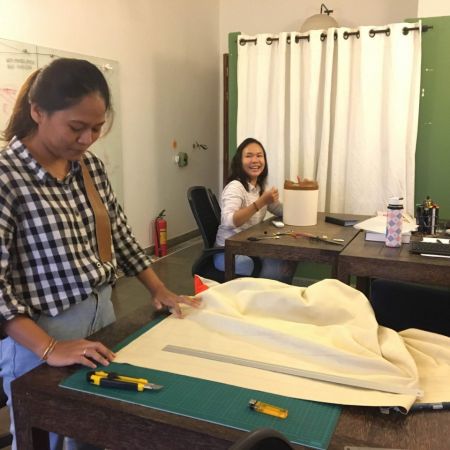 With her longer experience and a fine arts design background, Lucille leads the team, yet she gives plenty of creative credit to Net and Nich. They both studied architecture at Norton University before joining Maads about a year ago. Nich was fresh out of university, and Net had spent one year as a junior architect with Mäd agency in Phnom Penh.
Net favors a minimalist style that features sustainable materials and Nich prefers designs that are "simple but unique". Lucille, who previously worked in event decoration and art installation in France before moving to Phnom Penh five years ago and focusing on interior design, also tends to minimalism and pulls everything together with a "French touch".
The trio agrees that the key to their successful teamwork lies in having different personalities. When Lucille remarks that "we have never fought in one entire year", Nich playfully chimes in: "Oh, I think we do fight!", and Net to add with a grin: "I fight with you all the time!" As Nich sums it up: "We complete each other, so in fact we never clash..."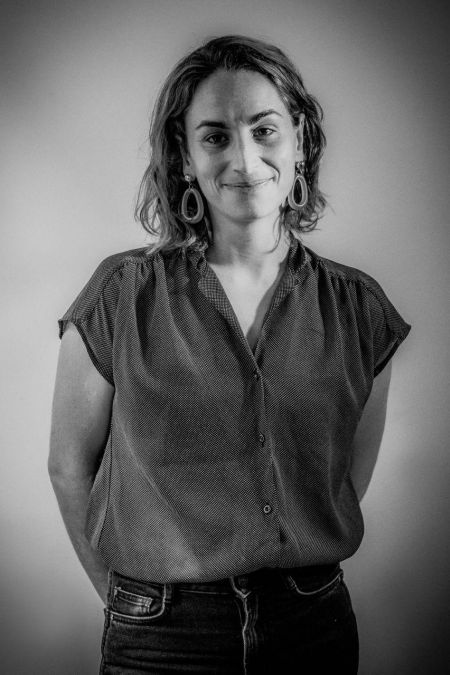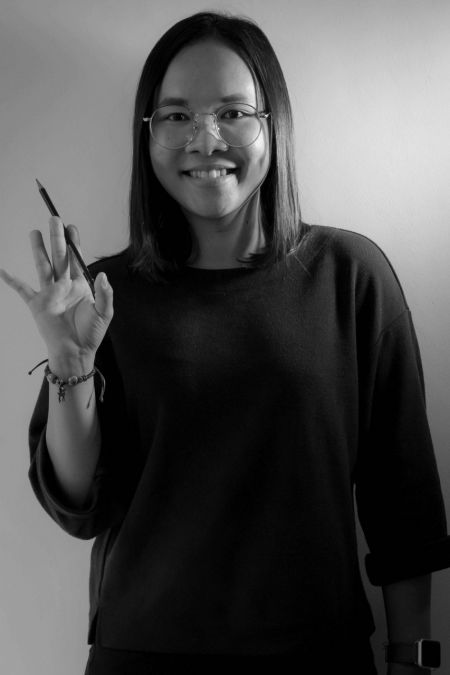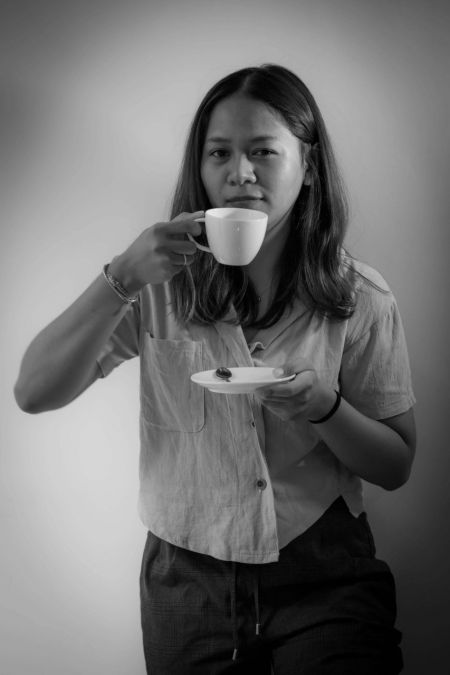 Some of their fondest memories and biggest challenges came from working on a bioclimatic natural glamping structure, The Jungloo, which Net started to draw in December 2017 from the indications given by Alexis de Suremain, the one who came up with this groundbreaking concept.
"We worked by trial and error", she says, "without any previous experience in handling this particular kind of construction site. Learning together, we were like 'Oh my god, this is stupid! What we're doing doesn't make sense!'", referring to their first attempts to fit the fabric over the Jungloo rounded frame.
Nevertheless, they completed the first pilot in six months and are now working on the floating version of the tented bungalow specially designed for tropical context, while the prototype is already hosting guests in the gardens of Kabiki Hotel.
"With Jungloo and Penh House", remarks Lucille, "the team has seen their designs come to life, growing from mere sketches into real, tangible hospitality solutions, something you can feel and inhabit". Leather and bamboo, beige fabrics, natural colors, all these elements that in her mind suggested the idea of "nomadism", are specifically treated in each of the contexts.
"A designer's dream coming through? It's when you see the result, in situation, how people react to it, how they use it. From the smallest details to the general feeling, it is so great when we can say 'Yes, that's something we made!'"