As EGBOK Vocational School celebrated its 10th anniversary this month, a 21-year old girl from Mondulkiri Province (Cambodia's Northeast) was completing her training in the kitchens of Templation Angkor resort in Siem Reap. An EGBOK alumna, Chenda Sreyneang is now entering the world of professional cooking, and she loves it.
A few years ago, Sreyneang was helping her family in Phum Throm, a small village of Pnong - an ethnic minority inhabiting Cambodian hauts-plateaux -farmers in Mondulkiri, having giving up her secondary education to tend their small land. Then, she heard of EGBOK vocational programs, was selected and left for Siem Reap.
"I was a bit afraid but my parents and siblings encouraged me", recalls Sreyneang; "the school has several programs but I opted for the cooking section...maybe because I always liked to help my mother for the family meals".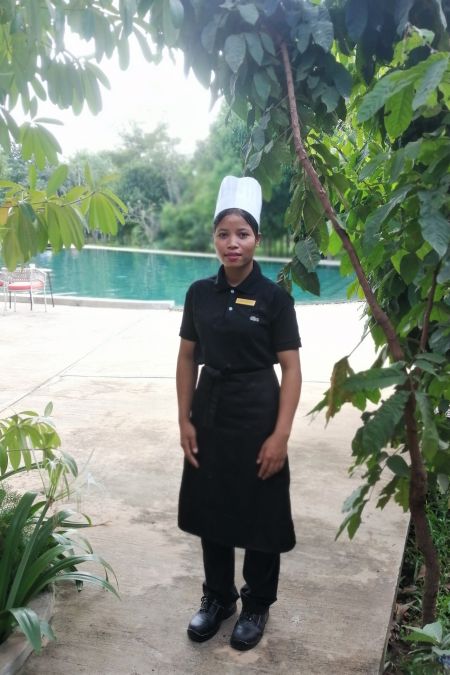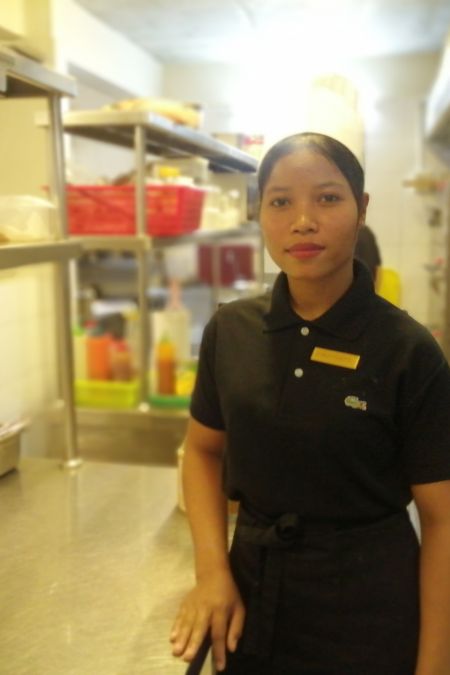 She then discovered a whole unknwown universe, far away from the daily diet of poor farmers in a remote area of the country: "Spaghetti, my favorite foreign dish! And grilled salmon, too...But we also learned how our traditional dishes, all kinds of soup (somlor), can taste really good, really special".
After a 3-month training period, Sreyneang has now joined the staff at Templation. "To think that I've never been to a restaurant my whole life, and now I'm working in such a beautiful environment...", she muses as her eyes briefly wander through the airy dining area, over the vast swimming pool gleaming like a lake under the sun.
But it's time to go back to the kitchen for some prep work. In parting, Sreyneang mentions that she'll now be able to send some money to her family, up there on the verdant hills of Mondulkiri. And pay them a short visit, perhaps for Khmer New Year next April. Skills have been learnt, now her professional life is starting, and "there are things to learn every day!".
Last month, Templation held a Fundraising Dinner for EGBOK pupils, with some of the students from the school joining three award-winning Chefs: