For Polin, the best part of working at Blue Lime in Phnom Penh is the guests. He loves the hotel's team -- "We all work like a family. That's why no one leaves," he jokes -- but it's learning from and helping the visitors that he enjoys the most.
The 35-year-old arrived in Phnom Penh from Stung Treng province in 2002, moving to the city to work with his brother at a guesthouse on what used to be Boeng Kak Lake, at the time a very popular destination for backpackers.
Even as a teenager in Stung Treng, he would dedicate one hour to studying English every day with a tutor. Polin's English learning gained momentum after he began his career in hospitality, first on the lakeside, then on the reception desk at Blue Lime since 2008. Now, he is among the longest serving front desk officers.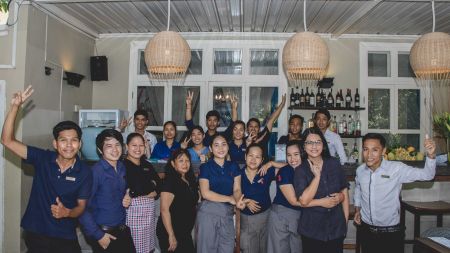 With the whole Blue Lime time, first from right
"At first, I studied at school but my best education was and remains by talking with guests," Polin said. "I got well known for speaking because I have been joining with the backpackers since I worked at Boeng Kak Lake."
"If there is any problem I like to sort it out," Polin said. "Like if [the guests] are asking for information, we help them." To him, communication skills are a big part of professional excellence in the hospitality industry. And since he's passionate about his work, he found time to join several courses in hotel management held at Plantation urban resort and spa, a sister property nearby.
Forgotten or misplaced possessions are another opportunity to help guests, sometimes requiring a speedy moto drive to the airport to reunite them with their precious belongings before their flight leaves. "Sometimes the guests will forget their passport or money on the way to the airport," Polin recalls. "So we help them to bring their items to them."
It's not only learning from travelers that has been an inspiration to him. He's also taken his friendly chats with guests as an opportunity to learn more about their home countries. "I will say I like the style of guests' talking, the different ways they express themselves in English. And I learn a lot about their background, their own country".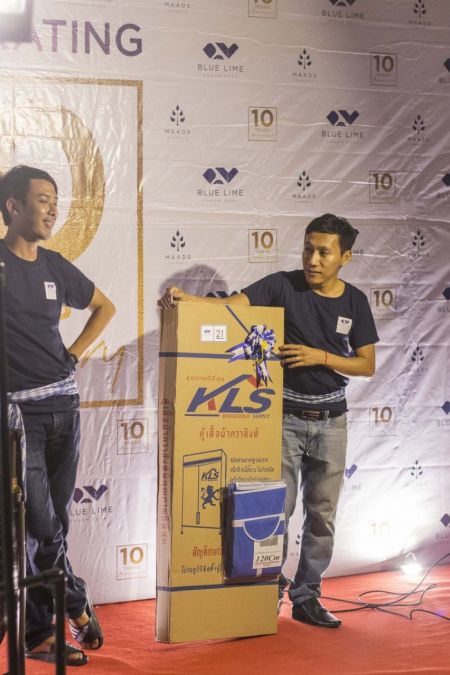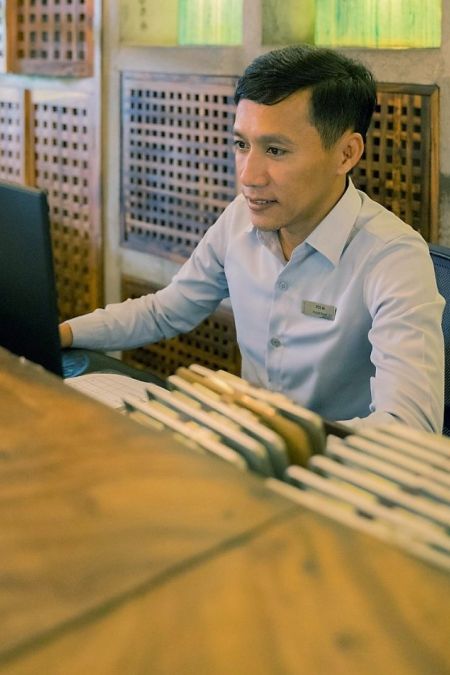 His interest in other countries sparked an interest in travel, and in 2015 he was able to visit Australia for one month, an experience he hopes to replicate in other parts of Southeast Asia when he has more free time to see the world.
But for now, he has his hands full, after getting married and having his first child last year, and with his favourite pastime -- playing football as much as possible.