In his workshop high up an old building on a non-gentrified street of Phnom Penh, Fonki Yav aka FONKirecounts a short yet intense life from street art, which is discovered as a 15-year old teen in Montreal, to a novel exploration of the ancient art of Kbach, the Khmer design. From a childhood spent in France -- where his parents fled the Khmer Rouge -- and Canada to his decision to come back to his ancestors' country starting from 2012.
"I was very much in graffiti art and cartoons for an extended phase," recalls FONKi with a smile (a nickname inspired by the rebellious hip-hop band from Marseilles in the 1990s, La Fonky Family), "but when I started to really work and live in Cambodia, I felt I needed to explore new avenues, traditional art forms revisited with a modern spirit."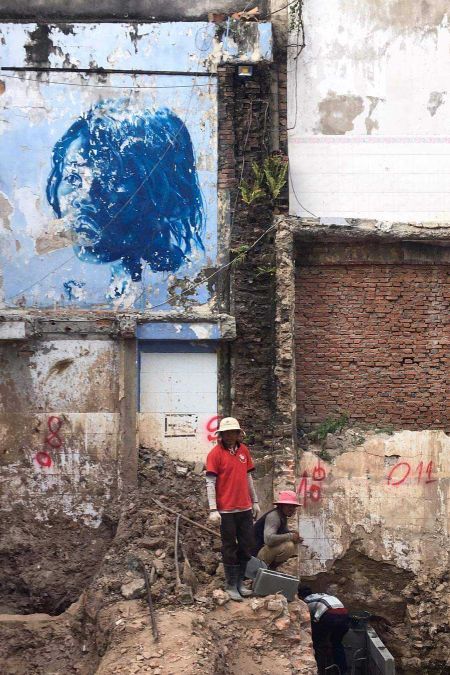 He points to the giant on the wall, a painting obviously under the influence of Angkorian architecture, yet with bright purple and orange touches -- he clearlyloves Indian chromos -- and with smallish characters frolicking in the background, including his own cartoonish self.
Is the rebel "tagging" city buildings and tunnels going mainstream? "To me, murals can and must be an elaborate art form," he says; "Their main advantage is to take art to the people, the passers-by, out of museums and galleries." And for Fonki, that means exploring his own history, the reflection of tradition into modernity. That's why he did murals with Khmer apsaras, portraits of his parents and ancestors, or King Sihamoni of Cambodia.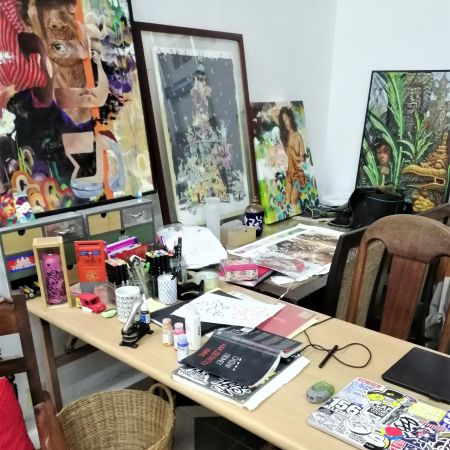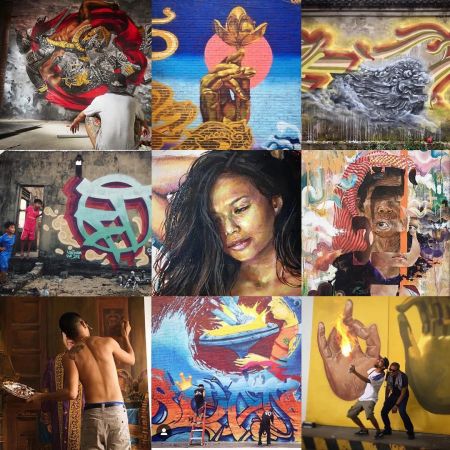 One of the "returnees" born in the Cambodian diaspora and rediscovering their origins (he was featured in the 2015 documentary The Roots Remainby Jean-Sébastien Francoeur and Andrew Marchand-Boddy), FONKi sees himself as a citizen of the world, but one devoted to the revival of Khmer creativity. "I really am into this concept of Khmer Renaissance, not imitating ancient art forms but finding renewed inspiration in them."
This outlook led him to work closely with young Cambodian artist Ranon Phal who, says Fonki, "studied for five years classical techniques at the Academy of Fine Arts in Milan and came back to Cambodia in 2018 to explore his own "renaissance", as an artist and as someone who successfuly overcame leukemia."
Together, they will share their vivid and exploratory works with the public at Rosewood Gallery in Phnom Penh, from 8 November, 2019.