He has developed a new medium from ancient publishing traditions, such as the rolled-up manuscripts of the Middle East or the Khmer chronicles written on bamboo strips. Yet he's a resolutely modern traveler, bringing his laptop to the remotest parts of Cambodia on his motorbike, respectful of local mores, eager to plead for the preservation of architectural heritage and natural environment. When travelogue meets fairy tale book...
"I'm basically an illustrator, that's all", insists Raphael Seyfried with an unassuming smile in his studio tucked above a quiet and leafy street of the capital city, where you can still feel the spirit of the Phnom Penh of yore. "When I discovered Cambodia several years ago, I felt the urge to tell the story of its amazing people, its villages and small towns, the mix of a millenia-old civilization and an incredibly youthful energy".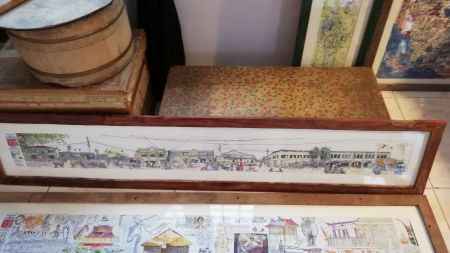 Laid on carefully-selected paper, his drawings set the minitious and richly colored map of a country and its inhabitants. A stickler for revealing details, telling paradoxes and imaginary landscapes, Raphael keeps the eye of a spellbound child combined with a constantly expanded mastery: "When I was a kid in a faraway farmhouse on the hills of Alsace (an eastern French province close to Germany), I dreamt of traveling the world one day, and tell about it. My professional experience as an architect has enhanced this desire to decipher the hidden messages in volumes, shapes, spatial layout".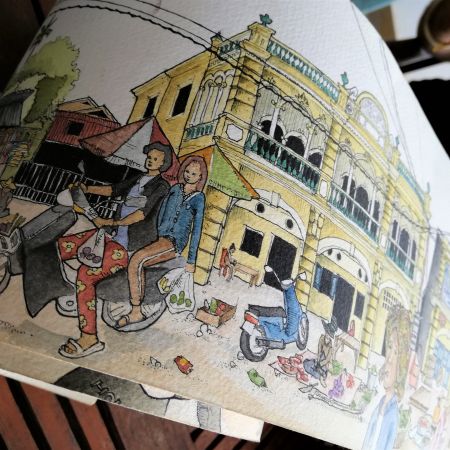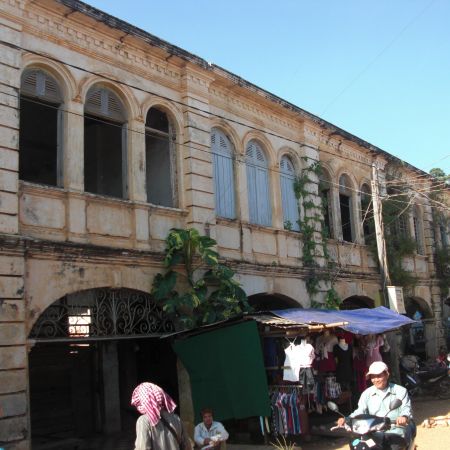 ...and the real street in Chhlong.
Visitors from abroad appreciate his travel rolls format, easy to tuck into a suitcase with their elegant and handy cases. Locals love the sight of this gentle bearded giant crouched on the ground to sketch a view, surrounded by curious kids. All marvel at finding out insights on this particular Cambodian flower, evocations of daily routine in the rice paddles or ancient rituals still performed in a modern context.
"Just an illustrator"? Allergic to self-aggrandizement, Raphael Seyfried reckons that his work on Cambodia is getting recognized among the global community of visual artists and art lovers. He's on a roll, clearly, but his energy goes to exploring more, learning more ("about the world, about myself!"), and bringing the medium he has created to new potentialities, new horizons.
For instance, developing an interactive, 3D travel roll that would open up a trove of information just strolling to it on your mobile. "Like some cutting-edge almanach of Cambodia?": he takes in this proposed definition, nods and acquiesces with a grin: "Yeah, something like that..."
Raphael Seyfried is attending Pshar-Wonderland Art, two art shows at Plantation Urban Resort & Spa and Factory Phnom Penh, Oct 20 & 21, 2018.
Travel rolls and maps can be purchased online and at several stores in Phnom Penh and Siem Reap, including The 240, Estampe, Pavilion, TeaHouse,Templation Angkor boutique.