Tucked under tropical trees, the open-air restaurant area at Kabiki Hotel looks like a haven of quiet and serenity a few steps away from the two swimming pools. However, its staff can get really busy at breakfast and lunch time, especially in a family-friendly destination. Never losing her tranquil smile, Lim Chanthong supervises the operation, taking orders, rushing back and forth to the kitchen, and making sure that the customers, especially the youngest ones, get what they wish for on time.
"I started working at Kabiki at age 18, to help my elder sister who was (and still is) a housekeeper here", recalls Chanthong; "until now, we go to work and back to our family house together, and she drives because I'm a bit afraid of the traffic!". In 2013, she became a waitress in the same hotel. "I'm not a big eater but I've always been interested in food, especially vegetables, fish and...soup, all kind of soups", which certainly are the main staple of popular Khmer cuisine.
Seeing her willingness to learn and progress, the hotel management decided to fund her enrollment in the English language department for young adults at Paññasastra University. Chanthong is now fluent in conversational English, an important asset in the hospitality industry. "It still costs me some effort to read in English, so I read mostly in Khmer, because I love books", she says. Books and "romantic music", love songs from all eras and countries, with the Khmer repertoire from Cambodia Golden Age at the top of her list.
Her fancy for comfort food, added to her background -- her parents run a soft beverage store in Phnom Penh -- and her natural inclination for teamworking brought Chanthong to the position of Restaurant Manager last year. "Having a great team around you is essential", she remarks; "we help each other as much as we can. For example, during the main festivals, those with family living in Phnom Penh, like myself, will work all the shifts to allow our colleagues to travel to the provinces in order to spend the holidays with their loved ones".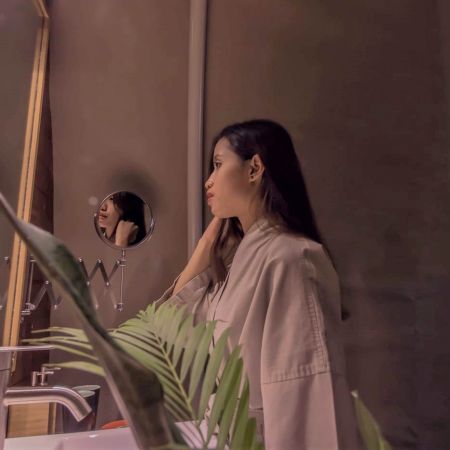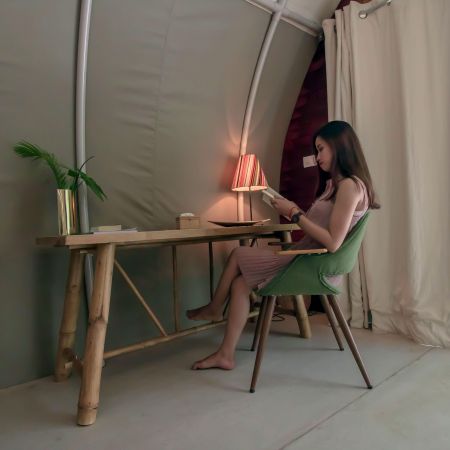 Food & Beverage is not the only aspect of the hospitality industry Chanthong wants to learn more about. Recently, she has been curious about the Jungloo, the glamping experience concept developed by MAADS, with one pilot unit set on the grounds of Kabiki. She has even been happy to pose for a photo series detailing this innovative eco-friendly, sustainable concept of "camping in style".